Design and Consultation
It is our goal in providing our clients with the opportunity to expand their own ideas when it comes to design. With the aid of our design consultants we are able to incorporate your ideas with our existing products. Wood encounter will design and consult with our clients to ensure that all projects are custom tailored for independent use instead of provided scenarios that are unfit for any particular application.
The client is recommended on decisions regarding this thinking because we are not only providing a product, but we are producing working environments that will be a combination of functionality and aesthetics.
Project Planning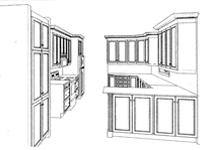 Project planning at wood encounter includes aiding our design team so that projects are designed in accordance with customer budgets and workability. It is through project planning that all design elements begin to take their form.
It is here that construction methods and discussions are held to ensure that designed projects become the vision of our clients, designers, and consultants. Information at this point is relayed from office to shop floor so that manufacturing can commence.
In-House Manufacturing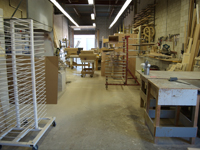 Over the last 22 years we have expanded to include top quality equipment to aid our employees with their work, and to provide superior quality in our products.
The combination of both skilled labor and precision equipment allows us to produce the finest products for our clients. Using the finest materials available, we are able to provide ongoing superior products that set us aside from the rest. To further control our quality, we completely manufacture our own trim, baseboards, crown moldings, and doors for our cabinetry.
Wood encounter is constantly seeking new methods of construction and new products that are in the market place so that we are able to continuously stay at the top of the scale in the custom cabinet industry; year after year.
Delivery and Installation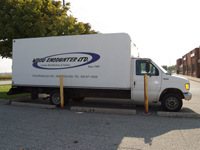 Shipments in and around the gta are hassle free, as we use reputable carriers to provide prompt and safe delivery of our finished products. Our custom cabinetry is packaged and blanket wrapped to ensure its safe arrival at our customers doorstep.
Wood encounter provides the excellence of skilled labor in our plant and we carry this excellence onto the field when installations are required. Our installers are there to provide the final touches for our customers. It is their job to ensure the proper fit and finish of components so that upon project completion our customers are completely satisfied with their order and that our reputation is not marred by deficiencies.